D.I.Y. Honda Prelude Water Pump Install
Here we will discuss how to change your water pump for the Honda Prelude.
Mine started weeping at about 180K miles so I guess I was pretty lucky. I believe they are supposed to be changed around 100K. They usually start leaking slowly and it will progress until it is a steady stream after about 1-2 weeks.
Start by disconnecting your battery, etc. the exact location of your water pump is on the lower right-hand side of the engine (drivers side) and it is behind your timing belt, so its not an easy task if you haven't taken off your timing belt before. If you have no idea on how to change your timing belt I would not proceed, and seek a mechanic.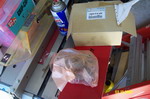 click image to enlarge
If you are willing to tackle this but don't know exactly how, you can download the service manual from our online store Download Here This is the manual that all of the Honda technicians use.
After your battery has been disconnected, remove the valve cover and all belts IE (Power Steering, AC/Alternator) Pic Below: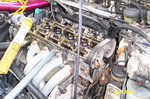 click image to enlarge
Remove your motor mount on the drivers side.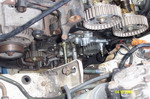 Remove your timing cover and loosen your tensioner bolt and slide off your timing belt
Remove your crank pulley bolt... this might be the toughest part of the job. Slide off the crank pulley, which feeds your power steering belt and AC / Alternator. Dont loose the key.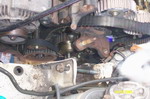 click image to enlarge
Slide off your balance shaft pulley and remove belt
Your water pump is the bottom most pulley next to the oil pan see below: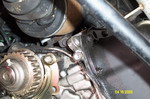 unbolt it and remove. Then get the new one ready and put some honda bond on the seal before installing.. just to make sure it won't leak.
Repeat process in reverse order. When installing the balancer belt make sure all the notches are lined up and the crank is at T.D.C.
When installing the timing belt make sure both the head and the crank are at T.D.C.
Any comments or questions feel free to reply in the Prelude Forum
92lude.com is not responsable for anything that might occur during the installation or removal of any part on your Honda Prelude. You perform this at your own risk. Make sure you know what you are doing before you even attempt this procedure.